Saini has come up the ranks in the last three years or so.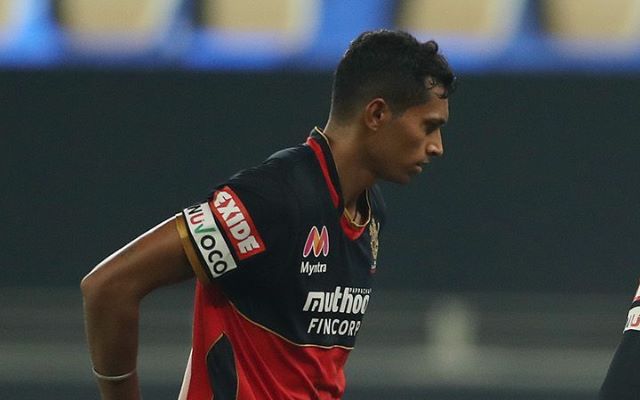 Royal Challengers Bangalore (RCB) won a Super Over thriller against Mumbai Indians (MI) on Monday, September 28. The highlight of the match, which went down to the wire, saw Indian bowlers Navdeep Saini and Jasprit Bumrah concede just 18 runs against the world's five best batsmen.
Talking about Saini, up against some of the biggest hitters in the tournament in Hardik Pandya, Kieron Pollard and Rohit Sharma, he held on to his nerves and conceded just seven runs to put RCB on the driver's seat. The lanky pacer also dismissed Pollard – who had scored a 24-ball 60 in Mumbai's run-chase.
Saini is being touted as India's Shoaib Akhtar, after bowling exceedingly quick in the MI vs RCB game at the Dubai International Stadium. And after taking two wickets in one over in the opening match against Sunrisers Hyderabad (SRH) in IPL 2020 in Dubai, the doubts are disappearing.
Here are some interesting facts to know about youngster Navdeep Saini:
1. Born and Bought up in Haryana but plays for Delhi
Navdeep Saini was born on 23 November 1992 in Karnal city which is a part of Haryana, but plays for the Delhi Ranji team in domestic cricket and made his made his Ranji debut for the Delhi side in 2013-14 season.
2. First spotted by Gautam Gambhir
Saini was first spotted by Gautam Gambhir, who was so impressed by the young lad that he took him to bowl in the nets for the Delhi side for the Ranji Trophy preparations. Saini, with a speed of 150 kmph, didn't take long to enter into the Delhi squad after that.
3. 2017-18 Ranji trophy- his breakthrough season
Saini turned out to be a heavyweight in 2017-18 Ranji Season. The speedster, who had never bowled with a leather ball before joining the Delhi camp, registered figures of 3/55 and 4/35 against the Bengal side.
He finished the tournament as the Delhi's leading wicket-taker with 34 scalps in just eight games. He was also the leading wicket-taker for Delhi in the 2018-19 Vijay Hazare Trophy with sixteen dismissals in eight matches.
4. Known for clocking an average pace of 145kmph
The 27-year old tearaway speedster Navdeep Saini is known for clocking an average pace of 145 kmph.  He consistently touches 150 kmph, an attribute that played a big role in him getting a place in India's shorter-version squads for the West Indies tour in 2019.
5. Bought by the Delhi Daredevils (now Delhi Capitals) in IPL 2017
Saini's first experience in the IPL came in the 10th edition of the cash rich league where he was purchased by the Delhi franchise for Rs 10 lakhs but did not get to play a single game that year. The following year he was bought by the Royal challengers Bangalore (RCB) in a bidding war where he was eventually snapped up for INR 3 crores and has continued to play for them since then.
6. Selected in India's Test squad
In June 2018, he was added to India's Test squad for their one-off match against Afghanistan as a replacement for Mohammed Shami but he did not play. In April 2019, he was named as a standby bowler for the 2019 World Cup in England and Wales.
7. Team India Debut
Saini was named in India's One day international (ODI) and Twenty 20 international (T20I) squads for their series against the West Indies. In his T20I debut, he took three wickets from his four overs. He got rid of Nicholas Pooran and Shimron Hetmyer off consecutive deliveries and bowled a wicket-maiden in the last over of the innings dismissing Kieron Pollard.
Subsequently, he was as named Man of the Match. He made his ODI debut for India, also against the West Indies, on 22 December 2019 in Cuttack where he took two wickets.
8. Credits Gautam Gambhir and Virat Kohli  for playing a big role in his career
Saini is full of gratitude for veteran opener Gautam Gambhir who gave him chance in first-class cricket. He even once said he owes his "life and success" to the former Indian cricketer. Moreover, he credits Virat Kohli for playing a big role in shaping his career, backing Saini in whatever he wants to do on the field during matches.
9. His grandfather was a part of Indian National Army
His grandfather whose name is Karam Singh was an Independence activist and was part of Subhas Chandra Bose's Indian National Army. His father used to work as driver in Haryana's government department.
10. IPL Career
Navdeep made his debut against the Chennai Super Kings (CSK) in the inaugural match of IPL 2019 at the MA Chidambaram Stadium in Chennai. Though he didn't get a wicket, gave only 24 runs in his four overs. He hasn't looked back ever since.
~Written by Kevin D'Costa