Bairstow, smashing bowlers all over, scored a blistering 55-ball 97. He hammered 7 fours and 6 sixes in his innings.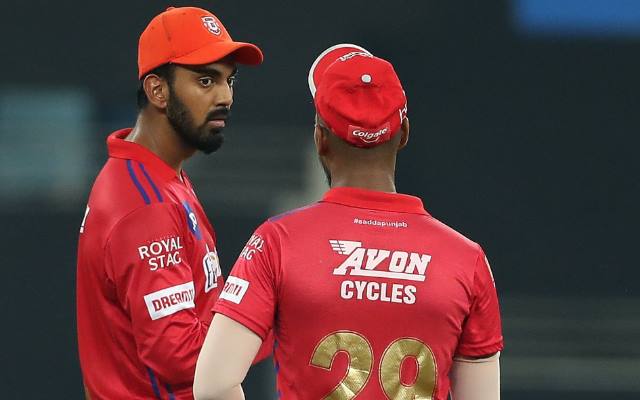 Two sides in dire need of a victory– Sunrisers Hyderabad and Kings XI Punjab– locked horns in Match 22 of IPL 2020 at Dubai International Stadium. It was the Orange Army which marched to the victory after amassing a massive 201-run total on the scoreboard. While delivering an impressive bowling performance, SRH cleaned up KXIP at a meagre 132 as they pocketed the encounter by 69 runs.
SRH skipper David Warner, after winning the toss, elected to bat first and the decisions turned out to be a wise one. Warner, combining with Jonny Bairstow wreaked havoc on KXIP bowling unit. The pair stitched a 160-run opening stand against a hapless KXIP bowling force.
Bairstow, smashing bowlers all over, scored a blistering 55-ball 97. He hammered 7 fours and 6 sixes in his innings. He was also assisted by Warner's 40-ball 52. SRH did suffer a setback in the middle overs after losing three wickets in quick succession. Warner, Bairstow and Abdul Samad were shown the exit door by a young Ravi Bishnoi.
After suffering unexpected blows, SRH's run-flow was affected a bit and the side had to put its foot on the brake. Bishnoi scalped three wickets while Arshdeep took a couple to dent SRH's run-scoring spree. In the end, it was Kane Williamson's 10-ball 20 which helped SRH in cruising past the 200-run mark.
Nicholas Pooran's 17-ball 50 goes down the drain
Coming on to KXIP's run-chase, all eyes were on the in-form pair of KL Rahul and Mayank Agarwal to put up a match-winning show. However, both the Karnataka stalwarts made their way back cheaply. Punjab were 58/3 at one point and a victory was looking like a distant dream for the Rahul-led side.
Nicholas Pooran stepped in the middle and slammed the fastest half-century of IPL 2020 to raise chances of Punjab's victory. The southpaw smashed seven huge sixes and a boundary to reach his 50 off just 17 deliveries. However, KXIP's wickets kept tumbling at the other end, leaving Pooran unaccompanied at one end.
Rashid Khan hit the final nail in the coffin when he showed the exit door to Pooran. Skipper Warner's ploy to put Rashid against Pooran worked well and the Afghan superstar trapped the left-hander in his web. KXIP eventually were wrapped up on 132.
Rahul's troops have now gathered only one victory in six matches. Punjab fans criticized their team management for the constant shuffling of Playing XI and some even urged them to bring back Chris Gayle into the side. Meanwhile, congratulatory messages poured in for Warner and Bairstow, who played a vital role in SRH's triumph.
Here are the best memes of SRH vs KXIP game:
Chris Gayle in KXIP : #SRHvsKXIP pic.twitter.com/sZOVpYNp9y

— sαcнιη💕 #CSK (@Akkian_Sachin) October 8, 2020
Kedar jadhav after Watching Maxwell
Performance.#SRHvsKXIP pic.twitter.com/ZEiTGmV20j

— ajay (@AjayPanwar3242) October 8, 2020
#KXIP #PreityZinta to Maxwell pic.twitter.com/1MKTDdJgVG

— Shaman🦋 (@wittyshaman) October 8, 2020
Umpire checks with third umpire

(Decision: Mujeeb out)

Mujeeb takes DRS

(Decision: Mujeeb out)

3rd umpire pic.twitter.com/F04SjgR3MX

— BroNuts (@BroNutsMemes) October 8, 2020
Punjab giving 2 points to each team in this IPL…..#SRHvsKXIP #IPL2020 #KXIPvSRH pic.twitter.com/PMpuvUGEmy

— Karunakar (@alwaysHere121) October 8, 2020
Jonny Bairstow 97 pe Out
Sachin tendulkar to Bairstow rn pic.twitter.com/6AwFML5FVI

— S Ravind King (@sravindking) October 8, 2020
After David Warner and Jonny Bairstow 160+ partnership

RCB fans to Kings 11 fans : pic.twitter.com/LKHPrnHV5G

— Sai (@akakrcb6) October 8, 2020
Pooran got out*

Kxip fans to tv*#KXIP #SRHvsKXIP pic.twitter.com/L2kT7nQrQy

— Aman Chaudhary (@sorcesticmemor) October 8, 2020
Glenn Maxwell comes to ball

Le Johnny Bairstow – pic.twitter.com/68SgKa1LqS

— Subham paul 🇮🇳 (@psubham035) October 8, 2020
KL Rahul To Maxwell In Dressing Room : pic.twitter.com/9unEJjnSB3

— Himanshu Chourasia (@Rain_Man25) October 8, 2020