In the past few hours, Gavaskar has received overwhelming support from many fans, especially after his on-air clarification about the whole issue.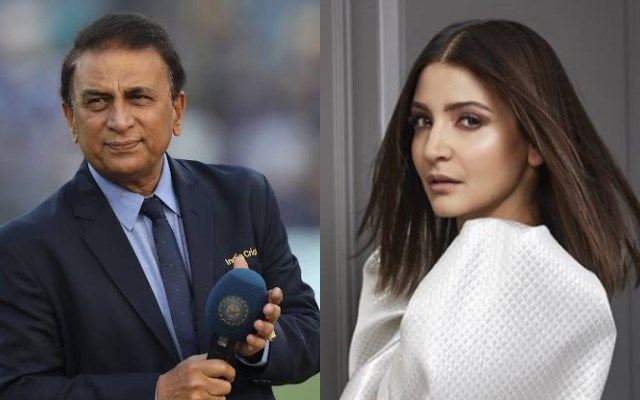 During the match between RCB and KXIP in the on-going IPL 2020, Sunil Gavaskar's on-air comments mentioning Virat Kohli and Anushka Sharma sparked a huge controversy on the internet. The legendary player and renowned commentator was slammed by Anushka where the Bollywood actress mentioned that he had allegedly passed 'distasteful' remarks against her.
After Anushka's statement, several fans started bashing Gavaskar in no time. It even led to Gavaskar clarifying his remarks while commentating in the Chennai Super Kings-Delhi Capitals encounter on Friday. A day after the 'Gavaskar-Anushka' episode, fans have now shifted the support towards the former Indian skipper.
Hashtag 'WeSupportGavaskar' trends on Twitter
Gavaskar was backed by netizens as the hashtag #WeSupportGavaskar remained a popular trend on Twitter. Dousing the controversy, Twitterati pointed out how Gavaskar's remark was misinterpreted by most people, leading to the story blowing out of proportion on social media.
"I did not make any sexist comment. I said Virat Kohli didn't get time to practice during the lockdown. We all saw how Virat Kohli was practicing on his terrace and Anushka was bowling to him. I just said Virat only got chance to practice on Anushka's bowling." Gavaskar had said yesterday in his defence.
Many fans had misunderstood Gavaskar's comment as a sexist one but he eventually made it clear that it was not meant to demean the Bollywood actress. Twitter also was flooded with tweets supporting the legendary batsman. Netizens even opined that Gavaskar said nothing wrong and he doesn't owe an explanation.
"Shri #SunilGavaskar ji your comment was not distasteful. It does not reflect dragging and blaming a cricketer's wife into the game for her husband's performance. It was misquoted and was an attempt to misinterpret it in bad taste," wrote a fan taking Gavaskar's side in the social media feud.
In the past few hours, Gavaskar has received overwhelming support from many fans, especially after his on-air clarification about the whole issue. To make everything crystal clear, Gavaskar reiterated his stance yesterday when the Chennai side was chasing a commanding 175-run total against Delhi Capitals
Here are a few tweets supporting Sunil Gavaskar:
Did Anushka Sharma issue an apology to Gavaskar? If not she is proving to be yet another dumb high-headed elite.

— अनु நாகநாதன்😷🇮🇳🚩 (@AnuNaganathan) September 26, 2020
Even after clarifying (which was not required) ppl still argue abt Mr Gavaskars stmnt, u can't be that dumb! He never blamed anushka for virats performance, neither did he make a sexist comment
Anushka, you owe a public apology to Mr Gavaskar.
Shame on u.#WeSupportGavaskar

— RK (@rkver2) September 26, 2020
Gavaskar did nothing wrong..Anushka and Kangna should do apology to him.

— SINGH RK_INDIAN (@rajusingh5678) September 26, 2020
Women are ok with "behind every successful man, there is a woman". But they lose their shit when they are blamed for failures. Hypocrisy much? That's the flip side of the coin. Also Sunil Gavaskar never blamed anushka. He deserves an apology. #gavaskar

— Vikram Aggarwal (@vikramagg) September 26, 2020
So Anushka was dat dumb dat instead of reading d official statement given by gavaskar she went by rumors, unbelievable,😂😂,anyways we r waiting for her apologies

— madhav (@MadhavShlok) September 26, 2020
Great Sunil gavaskar didn't played for money & fame he represented my country he made us proud..Cricket is popular in India bcos of him .anushka Apologies to him if you have got any shame left .#WeSupportGavaskar

— Arvsha96 (@Arvsha_96) September 26, 2020
Anushka need ur apology to Mr. Gavaskar

— Sneha – The love ❤️ (@SnehaSingh2509) September 25, 2020
Sunil Gavaskar deserves an apology from Anushka Sharma…

— DINESH (@DINESHMULA) September 25, 2020
It was Anushka Sharma"s responsibility to check the fact first. @AnushkaSharma surely owe an apology to Mr. Sunil Gavaskar.#IPL2020

— Amlesh Pal (@i_Amlesh) September 25, 2020
Retweet if u want an apology letter from Brainless Anushka to great Gavaskar sir #WeSupportGavaskar

— Sunnydutta (@Sunnydu77997018) September 26, 2020