Essex said that the actions 'did not meet the inclusive values of the organisation'.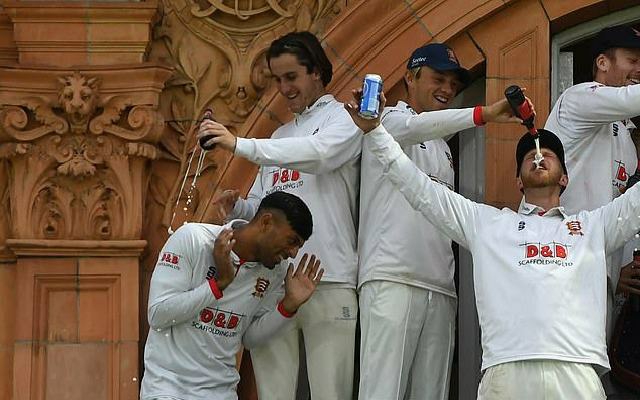 Controversy erupted during Essex's victory over Somerset in the final of the 2020 Bob Willis Trophy. During the celebrations, Will Buttleman, one of the senior figures, decided to pour beer over his Muslim team-mate, named Feroze Khushi and the same has angered the British Asian Cricket Community in East London. After the incident, they also asked the club to apologise.
However, Essex felt short of issuing an apology, though they said that the actions 'did not meet the inclusive values of the organisation'. The club also stated that they have been working hard to continue with their culture of having a 'multi-diverse team'.
Essex find themselves in controversy
"Essex pride themselves on their work within multi-diverse communities throughout the county and the surrounding areas. For a substantial period of time, Essex have had a multi-diverse team with players from different backgrounds, religions, and races, where cricket is at the heart of these communities," Essex told in a statement, reported by Daily Mail.
"The club has worked extremely hard and will continue to bring cricket to anybody and everybody, and educate on diversity, but further work needs to be done across both sport and society in general, to widen people's knowledge and make them more aware of cultural differences," the statement added.
Sajid Patel, the co-founder of the National Cricket League in Essex and East London, lashed out after the incident as well. He found the occurring 'offensive' and also put forth the example of the England national team and how they deal with the likes of Adil Rashid and Moeen Ali.
"I found it very, very offensive. When England celebrate with champagne, like they did at the World Cup final, they have arrangements with some of the players – Moeen Ali and Adil Rashid – that they will lift the trophy before signalling for them to leave the group so they can spray the drink," Patel mentioned.
As far as Khushi is concerned, he made his first-class debut back in August 2020 against Kent in Chelmsford and has played four matches in the format. To his dismay, he didn't get to play in the final at the Home of Cricket. In the games he played, he could only manage scores of 66 and 45 with a few single-digit scores as well.