[ad_1]
Parag has bowled only two overs thus far in the tournament.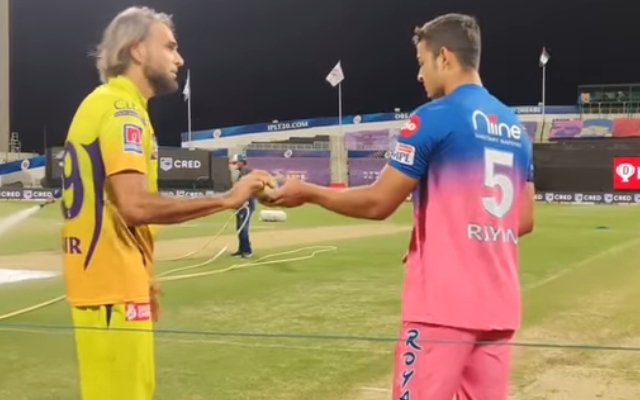 Riyan Parag, without a doubt, is an emerging prospect with the bat in hand. Having already played knocks for substance for the Rajasthan Royals (RR) in the Indian Premier League (IPL), the youngster has made a name for himself. However, the Guwahati-born is a handy leg-spinner as well and bowled this season against the Kolkata Knight Riders (KKR) and Royal Challengers (RCB).
Though he couldn't get a wicket in either of the two games, he has a combined tally of 47 scalps across 13 first-class, 24 List A and 33 T20s since making his debut in January 2017. A few days ago, when the Royals faced Chennai Super Kings (CSK) at the Sheikh Zayed Stadium in Abu Dhabi, the 18-year-old rubbed shoulders with South Africa's Imran Tahir.
Tahir, who played his first game this season against the Mumbai Indians (MI) in Sharjah, shared some valuable tips with Riyan, who paid full attention. Tahir shared his knowledge about variations in pace and not allowing the batters to read him.
Riyan Parag gets priceless tips from Tahir
"Just keep an eye on my pace. The reason I'm showing you my pace is since you mentioned that you want a good pace. My pace won't change. The important thing is what we shouldn't give time to the batsman. Stay on the front foot. I'm doing this step just to show you If I do this, let's see if they understand it or not. I'll show the leg-break now. I didn't leave it. Now I'll show by leaving," Tahir said.
"The thing is that we have less time. My pace is similar. Stay on the front foot. Even if you do this way, do it the way you want to. Bowl two balls, you can bowl a googly, no worries, but stay on the front foot. When you land your foot, do it this way," he continued.
Parag has scored 86 runs thus far in seven innings at an average and strike-rate of 14.33 and 122.85 respectively. His unbeaten 42* a couple of weeks ago, helped the Royals beat the Sunrisers Hyderabad (SRH) by five wickets in Dubai. With the ball, he has only been entrusted to bowl two overs where he gave away 27 runs without getting a wicket.