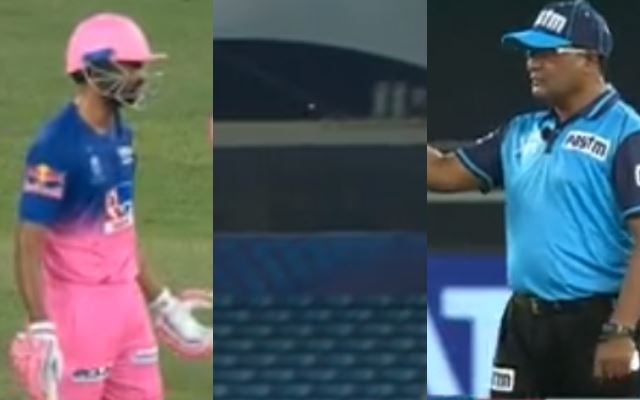 The match between Kolkata Knight Riders (KKR) and Rajasthan Royals (RR) in the ongoing Indian Premier League (IPL) season was pretty one-sided. KKR won the match by 37 runs and the Royals, after being reduced to 42/5, were never in the game at any stage in the chase. However, one incident attracted the attention of the fans during the second innings.
It happened in the 18th of the innings when Jaydev Unadkat slammed a delivery from Kuldeep Yadav in the air only to get caught in the deep. While in the real-time, it looked like a straight-forward dismissal. The replays showed that the ball hit the wire of the spider-cam.
This prompted a lengthy discussion between the on-field umpires and they sent the matter upstairs to get a clear look at it. However, the third umpire, after watching replays, concluded that there has been no clear evidence of the ball hitting the cable in the air. But Jaydev Unadkat wasn't happy with the decision as he felt that ball hit the wire and it should have been given a dead ball according to the rules.
Third umpire, on his part, was correct as the angle in which the replays were being shown, it was not clear if the ball really hit the cable before Kamlesh Nagarkoti took the catch. However, the fans weren't pleased at all as they felt the spider-cam causes a lot of trouble to the players while catching and it shouldn't be used anymore.
KKR register their second consecutive win of IPL 2020
As far as the match is concerned, it turned out to be a one-sided affair. The Royals did well to restrict the KKR to 174 in 20 overs. Though one felt that if they had held the catches, KKR wouldn't reached that score. Shubman Gill and Eoin Morgan were the best batsmen for them.
In the chase, the Royals' all top batsmen in Steve Smith, Jos Buttler, Sanju Samson and Robin Uthappa were dismissed soon. Their last match hero Rahul Tewatia also couldn't get the team over the line and team was able to reach 137 only due to Tom Curran who remained unbeaten on 54 off 36 balls. But the ball hitting spider-cam was the talking point even after the match and Twitter discussed the matter for quite some time.
Here's how fans reacted:
@IPL what a ridiculous umpiring by third umpire.. There is no use of technology if you can't use it.. Bowl was simply touched the spider cam but third umpire can't see it.. Now umpire fixing the matches? #RRvsKKR

— sachin garg (@saching16475263) September 30, 2020
Strange things happen. Jaydev Unadkat's big hit has hit the Spider cam cable he was expecting it to be called a dead ball but umpires have made the decision of OUT #RRvKKR #IPL2020 pic.twitter.com/DuWe1KXaBh

— Abhijeet ♞ (@TheYorkerBall) September 30, 2020
OK, let's settle this once and for all.. the ball did not hit the spidercam cable, and Unadkat is not Spider-Man. #KKRvRR #RRvKKR #IPL2020

— Alter Ego (@Alter_Ego45) September 30, 2020
Not OUT. Ball Touched Wire of Spider Cam

— News Drop Box (@newsdropbox) September 30, 2020
They need to do away with spidercam. Nothing more than an unnecessary novelty.

— Birch 🏏 (@Birchola) September 30, 2020
Ball clearly hit the wire of spider cam, whats going on. #RRvKKR

— Sachin Negi (@sachinnegi26) September 30, 2020
Anything that interferes with the game needs to go. That camera-bot circling the boundary has certainly prevented Shaw from diving and saving a boundary. It's the same with the Spidercam. Just not okay… #IPL2020

— Rishi Roy (@_rrroy_) September 29, 2020
Oh, just get rid of the damn spidercam. Better cosmetic value isn't worth compromising a fair game, especially if that camera angle isn't serving a purpose. #IPL2020 #RRvsKKR #rr #kkr

— Rishi Roy (@_rrroy_) September 30, 2020