After the RR vs MI match, Mumbai Indians are on the top of the points table yet again.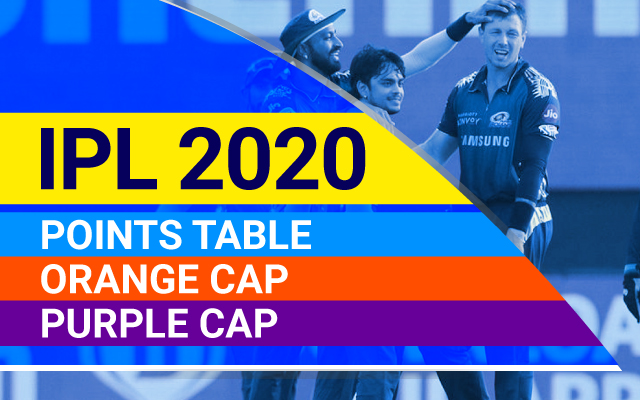 The 20th match of the Indian Premier League saw action between Rajasthan Royals and Rohit Sharma-led Mumbai Indians. Showing up with the willow first, MI posted a huge 193 in 20 overs and won the fun-filled contest by 57 runs. The big score could go on board due to Suryakumar Yadav's brilliant 79* off 47, and he was named as player of the match for his match-winning knock.
Cameos by Quinton de Kock (23 off 15) and Rohit Sharma (35 off 23) remained essential in the team's race to stand near the 200-run mark. Hardik Pandya accelerated at the end for Mumbai as usual and scored 30 off 19 balls. Shreyas Gopal was the showman from the Royals' bowling section as he leaked just 28 runs from his span of four overs and picked two wickets. Debutant Kartik Tyagi also picked one wicket for his team in today's match.
It was a perfect show from Jasprit Bumrah
Hunting down the heavy target, the batters of Rajasthan came and went in no time. Jos Buttler's 70 off 44 was looking great at one moment for RR but fell short ahead of huge target. Trent Boult, Jasprit Bumrah, and James Pattinson displayed a great bowling show from Mumbai's end. However, Bumrah touched magical figures by picking four wickets in a span of four overs, conceding just 20 runs.
Who has Orange and Purple cap?
After the MI vs RR match, Mumbai Indians are on the top of the points table yet again. Next in line are Delhi Capitals. The 3rd and 4th positions are sealed by Royal Challengers Bangalore and Kolkata Knight Riders respectively.
The Orange cap continues to shine on KL Rahul's head as he has 302 runs in the league so far. Next in line is Faf du Plessis, with 282 runs. 3rd spot has Mayank Agarwal and 4th spot is held by Rohit Sharma. The purple cap is with Kagiso Rabada, who has 12 wickets in IPL 2020 so far. Next in line is Jasprit Bumrah, with 11 wickets. 3rd and 4th spots are reserved by Mumbai Indians bowlers only, Trent Boult and James Pattinson respectively.
List of top run-scorers in IPL 2020 – Orange Cap Holder
| | | | | | | | | | | |
| --- | --- | --- | --- | --- | --- | --- | --- | --- | --- | --- |
| Sr No | Player | Team | Matches | Innings | Runs | Average | SR | 4s/6s | 100/50s | Best |
| 1 | KL Rahul | KXIP | 5 | 5 | 302 | 75.50 | 141.78 | 31/10 | 1/2 | 132* |
| 2 | Faf du Plessis | CSK | 5 | 5 | 282 | 94 | 150 | 26/8 | 0/3 | 87* |
| 3 | M Agarwal | KXIP | 5 | 5 | 272 | 54.40 | 162.87 | 27/11 | 1/1 | 106 |
| 4 | R Sharma | MI | 6 | 6 | 211 | 35.16 | 145.51 | 15/14 | 0/2 | 80 |
| 5 | S Iyer | DC | 5 | 5 | 181 | 45.25 | 143.65 | 11/9 | 0/2 | 88* |
| 6 | S Yadav | MI | 6 | 6 | 180 | 36 | 152.54 | 27/3 | 0/1 | 79* |
| 7 | P Shaw | DC | 5 | 5 | 179 | 35.80 | 147.93 | 19/7 | 0/2 | 66 |
| 8 | D Padikkal | RCB | 5 | 5 | 178 | 35.60 | 131.85 | 19/3 | 0/3 | 63 |
| 9 | D Warner | SRH | 5 | 5 | 175 | 35 | 123.33 | 14/5 | 0/1 | 60 |
| 10 | Rishabh Pant | DC | 5 | 5 | 171 | 42.75 | 139.02 | 18/5 | 0/0 | 38 |
List of most wicket-takers in IPL 2020 – Purple Cap Holder
| | | | | | | | |
| --- | --- | --- | --- | --- | --- | --- | --- |
| Sr No | Player | Team | Matches | Innings | Wickets | Average | Best |
| 1 | K Rabada | DC | 5 | 5 | 12 | 12.50 | 4/24 |
| 2 | J Bumrah | MI | 6 | 6 | 11 | 17.81 | 4/20 |
| 3 | T Boult | MI | 6 | 6 | 10 | 18.30 | 2/26 |
| 4 | J Pattinson | MI | 6 | 6 | 9 | 19.88 | 2/19 |
| 5 | Y Chahal | RCB | 5 | 5 | 8 | 18 | 3/18 |
| 6 | M Shami | KXIP | 5 | 5 | 8 | 19.12 | 3/15 |
| 7 | Anrich Nortje | DC | 5 | 5 | 7 | 21.28 | 3/33 |
| 8 | R Chahar | MI | 6 | 6 | 7 | 22.71 | 2/26 |
| 9 | S Cottrell | KXIP | 5 | 5 | 6 | 23.83 | 2/17 |
| 10 | Piyush Chawla | CSK | 5 | 5 | 6 | 25.16 | 2/33 |
Here's the IPL 2020 points table in detail:
| | | | | | | | |
| --- | --- | --- | --- | --- | --- | --- | --- |
| Position | Team | Matches | Won | Lost | NR | Points | NRR |
| 1 | MI | 6 | 4 | 2 | 0 | 8 | 1.488 |
| 2 | DC | 5 | 4 | 1 | 0 | 8 | 1.06 |
| 3 | RCB | 5 | 3 | 2 | 0 | 6 | -1.35 |
| 4 | KKR | 4 | 2 | 2 | 0 | 4 | -0.121 |
| 5 | CSK | 5 | 2 | 3 | 0 | 4 | -0.342 |
| 6 | SRH | 5 | 2 | 3 | 0 | 4 | -0.417 |
| 7 | RR | 5 | 2 | 3 | 0 | 4 | -0.826 |
| 8 | KXIP | 5 | 1 | 4 | 0 | 2 | 0.178 |