After the SRH vs KXIP match, Mumbai Indians are sitting comfortably at the top of the points table.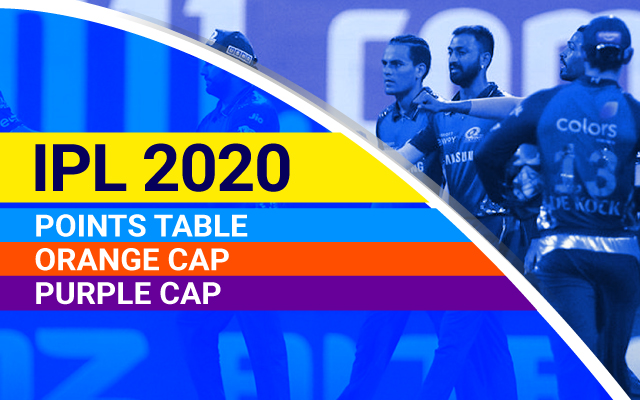 The 22nd match of the Indian Premier League (IPL) set action between Sunrisers Hyderabad and Kings XI Punjab. Both the team looked hungry for those two valuable points as they stepped on the field. However, SRH came up with the best show as they won the game by 69 runs. Batting first, Hyderabad posted a huge 201 on the board as David Warner (52 off 40) and Jonny Bairstow (97 off 55) wreaked havoc on Punjab bowlers at Dubai International Stadium.
Bairstow was named as the player of the match for his splendid innings. The duo of Warner and Bairstow were looking unstoppable at the moment, but young Ravi Bishnoi pitched in to cease SRH's run flow. He knocked down both of them within an over and picked three wickets in total for Punjab. Arshdeep Singh also fetched two wickets for Punjab's team and lent some support.
Rashid Khan looked dangerous again from SRH
Chasing down the heavy target, the opening order of Punjab collapsed as KL Rahul and Mayank Agarwal came and went in no time. Nicholas Pooran's 77 off 37 looked like big support for Punjab as he smashed the season's fastest fifty of the season, but it was too less ahead of the huge target. Rashid Khan again bowled with menace with his spin attack as he conceded just 12 runs in four overs and scalped three wickets. Khaleel Ahmed and T Natarajan picked two wickets each for SRH.
Who has Orange and Purple cap?
After the SRH vs KXIP match, Mumbai Indians are sitting comfortably at the top of the points table. Second in line are Delhi Capitals. 3rd and 4th spots are sealed by Sunrisers Hyderabad and Kolkata Knight Riders respectively.
KL Rahul still retains the Orange Cap with 313 runs in IPL 2020 so far. Second in line is Faf du Plessis, with 299 runs in his bag. The third and fourth positions have Mayank Agarwal and Jonny Bairstow, respectively.
Kagiso Rabada owns the purple cap with 12 wickets under his belt in the IPL 2020 so far.
Next in line is Jasprit Bumrah with 11wickets. Trent Boult has 10 wickets in his account, while James Pattinson and Mohammed Shami have nine wickets each.
List of top run-scorers in IPL 2020 – Orange Cap Holder
| | | | | | | | | | | |
| --- | --- | --- | --- | --- | --- | --- | --- | --- | --- | --- |
| Sr No | Player | Team | Matches | Innings | Runs | Average | SR | 4s/6s | 100/50s | Best |
| 1 | KL Rahul | KXIP | 6 | 6 | 313 | 62.60 | 136.68 | 31/10 | 1/2 | 132* |
| 2 | Faf du Plessis | CSK | 6 | 6 | 299 | 74.75 | 151.01 | 29/8 | 0/3 | 87* |
| 3 | M Agarwal | KXIP | 6 | 6 | 281 | 46.83 | 162.42 | 28/11 | 1/1 | 106 |
| 4 | J Bairstow | SRH | 6 | 6 | 241 | 40.16 | 138.50 | 17/11 | 0/3 | 97 |
| 5 | D Warner | SRH | 6 | 6 | 227 | 37.83 | 124.72 | 19/6 | 0/2 | 60 |
| 6 | R Sharma | MI | 6 | 6 | 211 | 35.16 | 145.51 | 15/14 | 0/2 | 80 |
| 7 | N Pooran | KXIP | 6 | 6 | 196 | 39.20 | 178.18 | 11/15 | 0/1 | 77 |
| 8 | S Watson | CSK | 6 | 6 | 185 | 37 | 131.20 | 20/9 | 0/2 | 83* |
| 9 | S Iyer | DC | 5 | 5 | 181 | 45.25 | 143.65 | 11/9 | 0/2 | 88* |
| 10 | S Yadav | MI | 6 | 6 | 180 | 36 | 152.54 | 27/3 | 0/1 | 79* |
List of most wicket-takers in IPL 2020 – Purple Cap Holder
| | | | | | | | |
| --- | --- | --- | --- | --- | --- | --- | --- |
| Sr No | Player | Team | Matches | Innings | Wickets | Average | Best |
| 1 | K Rabada | DC | 5 | 5 | 12 | 12.50 | 4/24 |
| 2 | J Bumrah | MI | 6 | 6 | 11 | 17.81 | 4/20 |
| 3 | T Boult | MI | 6 | 6 | 10 | 18.30 | 2/26 |
| 4 | J Pattinson | MI | 6 | 6 | 9 | 19.88 | 2/19 |
| 5 | M Shami | KXIP | 6 | 6 | 9 | 21.44 | 3/15 |
| 6 | R Khan | SRH | 6 | 6 | 8 | 14.50 | 3/12 |
| 7 | Y Chahal | RCB | 5 | 5 | 8 | 18 | 3/18 |
| 8 | Anrich Nortje | DC | 5 | 5 | 7 | 21.28 | 3/33 |
| 9 | R Chahar | MI | 6 | 6 | 7 | 22.71 | 2/26 |
| 10 | Sam Curran | CSK | 6 | 6 | 7 | 26 | 3/33 |
Here's the IPL 2020 points table in detail:
| | | | | | | | |
| --- | --- | --- | --- | --- | --- | --- | --- |
| Position | Team | Matches | Won | Lost | NR | Points | NRR |
| 1 | MI | 6 | 4 | 2 | 0 | 8 | 1.488 |
| 2 | DC | 5 | 4 | 1 | 0 | 8 | 1.06 |
| 3 | SRH | 6 | 3 | 3 | 0 | 6 | 0.232 |
| 4 | KKR | 5 | 3 | 2 | 0 | 6 | 0.002 |
| 5 | RCB | 5 | 3 | 2 | 0 | 6 | -1.35 |
| 6 | CSK | 6 | 2 | 4 | 0 | 4 | -0.371 |
| 7 | RR | 5 | 2 | 3 | 0 | 4 | -0.826 |
| 8 | KXIP | 6 | 1 | 5 | 0 | 2 | -0.431 |