Will Chris Gayle get his first chance of IPL 2020 against KKR?
Kings XI Punjab is slowly moving towards going out of playoff race having earned just two points from the six matches they played thus far. Kings XI will be part of Saturday's doubleheader having lost each of their last four matches. They will now be up against Kolkata Knight Riders whose winning form is slowly peaking. They moved into top four during the previous match against Chennai Super Kings and have won three of their last four games.
To bring Gayle or not?
Sunil Narine has had success against the Kings XI Punjab's overseas batsmen, Chris Gayle and Glen Maxwell. Both were dismissed twice in the IPL thus far by the Caribbean spinner. Gayle, especially, scored runs at a strike rate below 90. This could make KXIP rethink their decision of bringing in Gayle for Maxwell. The Australia all-rounder's batting form in the tournament doesn't inspire the confidence of any success. At the same time, the management will be in a conundrum of exposing Gayle to Narine or not in KXIP vs KKR .
Rahul's batting in the powerplay overs
KL Rahul's batting is slowly turning to be a concern for the Kings XI Punjab as their captain hasn't shown enough intent early on in the innings. Rahul's success in the T20 format was largely due to his aggressive starts and maximizing the powerplay. He had a strike rate of 157.6 during the 2018 IPL season during the powerplay which came down to 120.8 so did his average down to 46.4.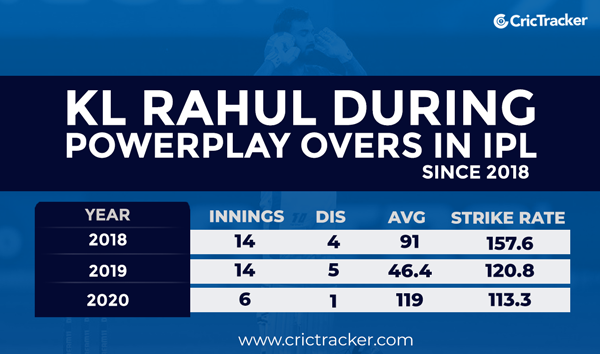 This year, Rahul has been even more conservative scored 119 runs in six innings at a strike rate of only 113.3. Rahul's numbers while chasing in the past two seasons were exceptional but this year, he ended up with scores below 30 in all three occasions. It seems as if Rahul is backing himself to deliver big returns towards the end like he did against RCB but hasn't been successful in it.
Can Russell find some success in IPL 2020?
Andre Russell hasn't been able to find any sort of success in the IPL 2020 with the bat despite him batting up the order in a couple of matches. The big-hitting all-rounder scored a couple of fifties on tricky pitches during the CPL but has been falling early this IPL. However, he could finally end his drought during the KXIP vs KKR. The KXIP doesn't have a solid bowling attack, especially for the death overs.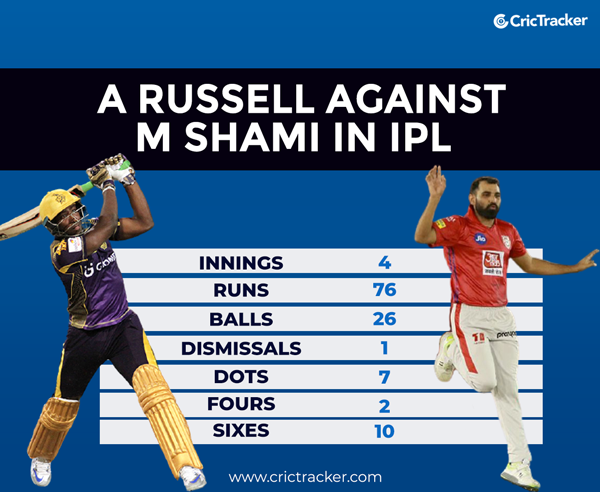 Arshdeep Singh did well in the previous game towards the end but it won't be easy for the youngster to get away against Russell. KXIP's best bet at death seems to be Mohammed Shami who has received some thrashing from the Caribbean all-rounder. Russell smashed as many as ten sixes in the IPL against Shami in only 26 balls.
(Stats as on October 9, 2020)