Virat Kohli's impact in the CSK vs RCB was three times the next best.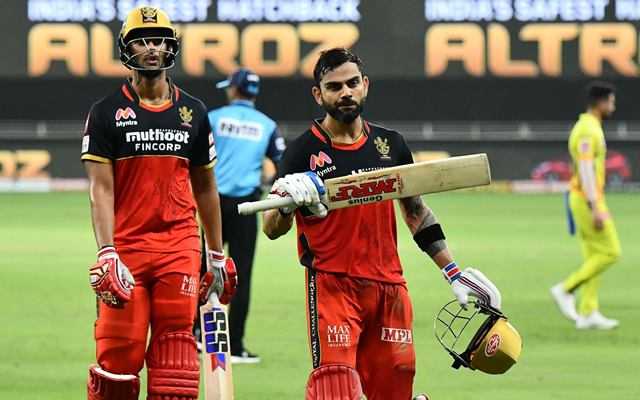 One of Virat Kohli's finest was at the display on Saturday night in Dubai as the Royal Challengers Bangalore skipper powered his team to a huge win against their archrivals, Chennai Super Kings. The RCB team finished at 169/4 despite a slow start as they added 74 in the final five overs. The CSK team, on the other hand, never looked to be in the chase and kept themselves going away from the target after the wickets of their openers. The margin of 37 runs in CSK vs RCB is RCB's biggest IPL win in terms of runs over CSK.
It is not a surprise that Virat Kohli produced the most impactful performance of CSK vs RCB as his unbeaten 90 off 52 earned an impact of 34.33 as per CricTracker's Match Impact Ratings. Kohli hit a total of eight boundaries including four maximums and got another 50 runs through running between wickets. Kohli's acceleration was the major talking point of the game. Virat was batting on 34 off 30 balls at one stage before yielding 56 runs from his final 22 deliveries which helped his team to post a 160+ total.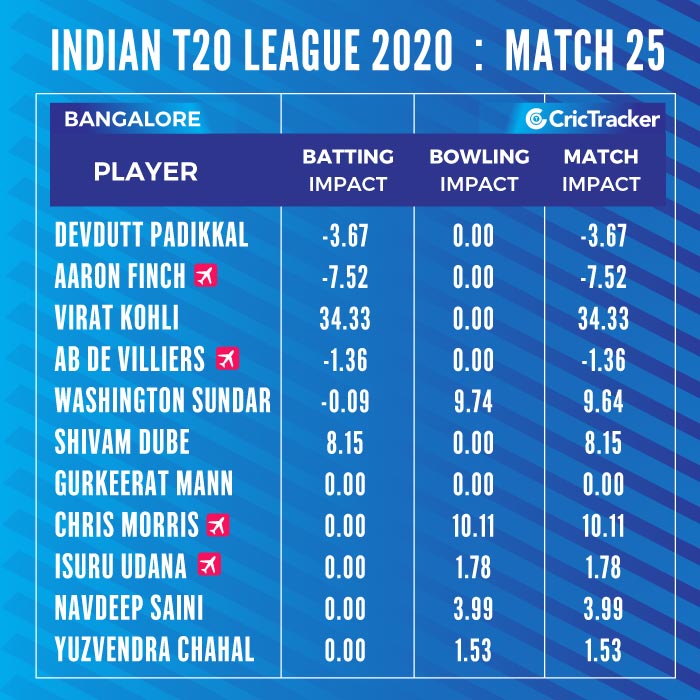 Royal Challengers Bangalore had a couple of top performances in the bowling department coming from their powerplay bowlers Washington Sunday and Chris Morris. The off-spinner got only three overs but was enough for his to dismiss CSK's overseas openers. His performance got him an impact rating of 9.74 which is the 2nd best in CSK vs RCB. Chris Morris, on his IPL debut for RCB, claimed three wickets and gave away only 19 runs in his four overs. His effort fetched him an impact rating of 10.11; the best after Kohli during the match.
Deepak Chahar too came up with an important performance with the ball for CSK. Chahar bowled three overs; all during the powerplay only. In those three overs, Deepak conceded just 10 runs and cleaned up the Aaron Finch. The Australian opener was clueless facing Chahar's swing and finished with 2 off 9 balls. Chahar's effort earned an impact of 8.95 which was the best for the Super Kings. The MS Dhoni-led team barely showed interest in chasing down the target resulting in a negative impact for most of their batters.