Ganguly also spoke about the need to have someone like Dhoni move up the batting order.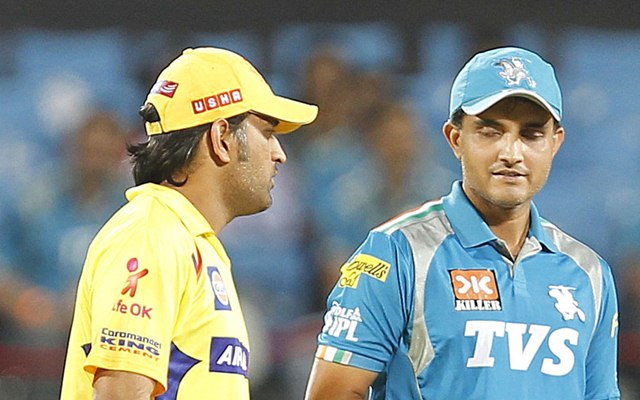 Chennai Super Kings (CSK) skipper MS Dhoni, one of the best captains of the sport, made his return to the field after staying away from the game for almost a year. The Ranchi stalwart had left his fans shattered after he announced his international departure on August 15. Upon Dhoni's retirement from the biggest stage, ardent fans were eagerly waiting to finally see him play in IPL 2020.
However, Dhoni's IPL 2020 journey has so far been a topsy-turvy ride. After CSK's two defeats in their last two games against Rajasthan Royals and Delhi Capitals, Dhoni's worth with his bat was questioned. Many experts as well as fans felt that he should've taken responsibility instead of demoting himself down the batting order.
However, former India captain and current BCCI president Sourav Ganguly has backed Dhoni amid all the criticism. Ganguly feels it needs game time for even the best to return to form. But Dhoni himself has said that he'll require time to get into the groove after being away from the sport for a considerable amount of time.
MS Dhoni played a match after about one year and six months: Sourav Ganguly
"In the current situation, it will take some time for him to get back to his old touch. He played a cricket match after about one year and six months. It's not easy however good you are. It will take some time," Ganguly said during a media interaction after being named brand ambassador of the Bengal Peerless group.
Ganguly also spoke about the need to have someone like Dhoni move up the batting order. "When Dhoni was in prime form and was the captain, then I was in broadcast and had said that he should bat at number four," Ganguly further said.
Ganguly also opened up on the possibility of India hosting England for a series. The BCCI president admitted that the idea is to move the action back to the country by ensuring that bio-bubbles are created and players have been kept away from Covid-19 threat.
"We will try to make this happen on Indian grounds (series against England). The advantage in the UAE is they have three stadiums (Abu Dhabi, Sharjah and Dubai). We also have the same facility in Mumbai — CCI, Wankhede and DY Patil. We also have Eden Gardens. We have to create a bubble. We want to hold our cricket in India, that's where the game is, that's where the heart is. But we are monitoring the COVID situation," Ganguly said.