Kohli has not contributed much with the bat so far in two matches this season.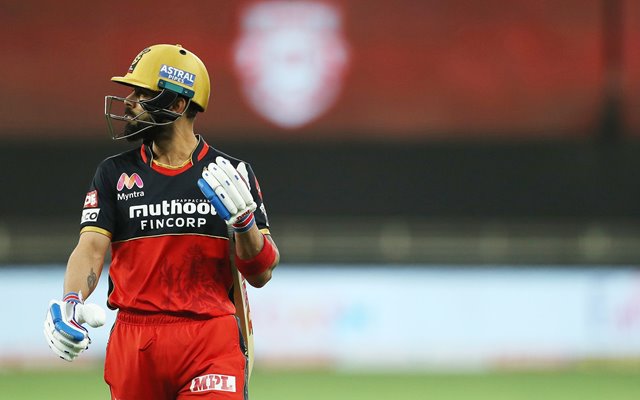 The Royal Challengers Bangalore (RCB) skipper Virat Kohli is being criticised a lot since they lost the game against the Kings XI Punjab (KXIP). Kohli not only was poor as a captain, he dropped a couple of catches as well and failed with the bat to make things worse for his team. Fans are criticising him to the hilt for not leading from the front and Kohli's childhood coach Rajkumar Sharma has come out in support of the RCB skipper.
He pointed out that the sportspersons are bound to have good and bad days on the field and no one can control it. Rather he asserted that Virat Kohli has set such high benchmarks for himself that the fans are hoping for him to do well every time he is on the field.
"It is just a part and parcel of a sportsman's life. You have good days and you have bad days on the pitch. It is just that Kohli has set such a benchmark that people forget he is only human and not a machine. You are bound to have off days and there is nothing wrong with it. People will ask if there is some technical issue or a mindset issue, but I will again say that it is a part of the game," Rajkumar was quoted as saying by Business World.
Even Jonty Rhodes dropped catches, says Virat Kohli's coach
A lot of memes went viral on social media after Virat Kohli dropped two relatively simple catches of KL Rahul against Kings XI Punjab (KXIP). Speaking about that, Rajkumar Sharma said that even the likes of Jonty Rhodes and Javed Miandad, who were considered the best fielders have dropped catches in their career.
"Firstly, like I said before, these things happen. Anybody can miss a catch or two. Even Jonty Rhodes missed a catch here and there. Javed Miandad was considered a great fielder and if you go back and look, he also did slip once or twice.So, this has nothing to do with patience or the urge to set the tone after the resumption of cricket.
"It is just a bad day on the field which can happen to even the best. He has played enough cricket to come back strongly and lead from the front," he further said. Meanwhile, Virat Kohli will be keen on making amends in the next game on Monday when RCB lock horns against Mumbai Indians.