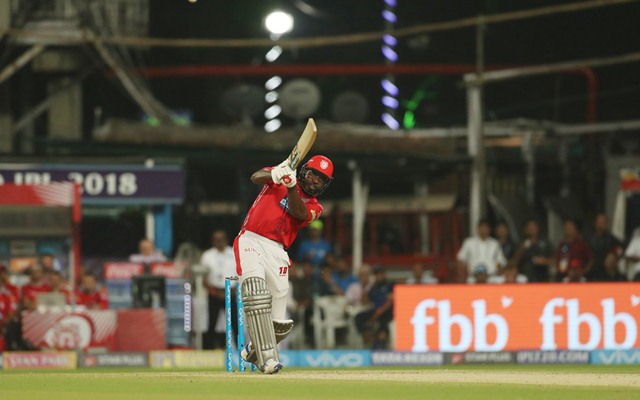 Top-quality cricket is what truly makes the Indian Premier League (IPL) the global sensation that it is. Barely 14 matches into the season, and fans have already witnessed some of the best cricketing action out there. From nail-biting super-overs (twice already), to power-packed 200+ matches (4 occasions); there's hardly any aspect that has gone uncovered.
It's true that the intensity of power-hitting has been at an all-time high this season. Naturally, with small-boundary grounds like the Sharjah Cricket Stadium, batsmen have been able to score sixes at a much-improved rate.
But while the quantity of sixes has been galore- quality-wise, there's still a lot left to be desired. In its 12-year-long existence, the IPL has been host to some of the most magnificent and enormous sixes fans have ever seen. As far as long sixes are concerned, the 2020 season has quite a distance to cover. Presently, Jofra Archer's 105-meter maximum off Lungi Ngidi occupies the pinnacle spot on this season's list of the biggest sixes.
Impressive? Isolated, yes- but not quite so, when compared with the all-time longest sixes in the IPL's history. For context, David Miller, playing for the Kings XI Punjab in 2016, had clobbered a strong, imposing 110-meter-long six… and that wasn't even the biggest six of that edition! Although it is jointly tied with the one that Chris Gayle smacked for the Royal Challengers Bangalore (RCB) in the 2012 season as the tenth-longest six in all-time IPL history.
Also Read: Flop XI from IPL 2020 Week 1
Who has hit the longest six?
Gayle, in-fact, happens to be one of the most consistent, big hitters in the IPL: of the 326 Shpageezas he has launched into the IPL night-skies thus far, four of them feature on the top-ten list. His 111-meter six from 2012 is tied on the ninth-spot- twice with AB de Villers (2012 and 2018, playing for RCB on both occasions) and MS Dhoni (2019, for Chennai Super Kings). The eighth spot is another tie, between Dhoni (2012, CSK) and Gayle (2013, RCB), with a six measuring up to 112 meters.
Rohit Sharma features seventh on the list, courtesy of his 115-meter hit off Mashrafe Mortaza in 2009 match between the Deccan Chargers (DC) and Kolkata Knight Riders (KKR). Ben Cutting's 117-meter-long hit for Sunrisers Hyderabad- the biggest of the 2016 season- features on the sixth spot, tied with Gautam Gambhir's (KKR) shot from 2013.
Also Read: IPL 2020: 6 batsmen who can hit 6 sixes in an over
Who have made it to the top five?
Breaking into the top-five is, once again, Chris Gayle- thanks to his 119-meter-long hit from the 2013 season. He's not alone, though- Yuvraj Singh (2009, KXIP) and Ross Taylor (2008, RCB) keep him company at this position. Robin Uthappa's (RCB, 2010) 120-meter maximum slots him marginally above at the fourth-spot.
And finally, there's the big-three- or long-three- and there are quite a few interesting names up here. Slotting in at number 3, is, Adam Gilchrist. His enormous, 122-meter hit for KXIP was the second-longest of the 2011 season.
What about the longest, then? Glad you asked, for that's the very next name on this list; the second-largest IPL six of all-time belongs to…Praveen Kumar. Hard as it is to believe, but he smacked Mumbai Indians' Lasith Malinga for a whopping, 124-meter six to snatch that particular accolade from Gilchrist. Talk about a dark horse!
But as the old cricket adage goes- there can only be one winner, and there is a clear winner here. Only one IPL batsman has been able to touch the coveted, 125-meter-benchmark. And that batsman is…Albie Morkel. His 125-meter-six off left-armer Pragyan Ojha dates back to the inaugural IPL season in 2008, back when he was playing for CSK against the Deccan Chargers in Hyderabad.
Here's the list of top 10 longest sixes in IPL ever:
| | | |
| --- | --- | --- |
| Player | Six Distance (in Meters) | IPL season |
| Albie Morkel | 125 | 2008 |
| Praveen Kumar | 124 | 2011 |
| Adam Gilchrist | 122 | 2011 |
| Robin Uthappa | 120 | 2010 |
| Chris Gayle | 119 | 2013 |
| Yuvraj Singh | 119 | 2009 |
| Ross Taylor | 119 | 2008 |
| Ben Cutting | 117 | 2016 |
| Gautam Gambhir | 117 | 2013 |
| MS Dhoni | 115 | 2009 |
~Written by Soham Bhowal