Nehra said it while commentating Hindi during the 14th over of DC innings on Tuesday.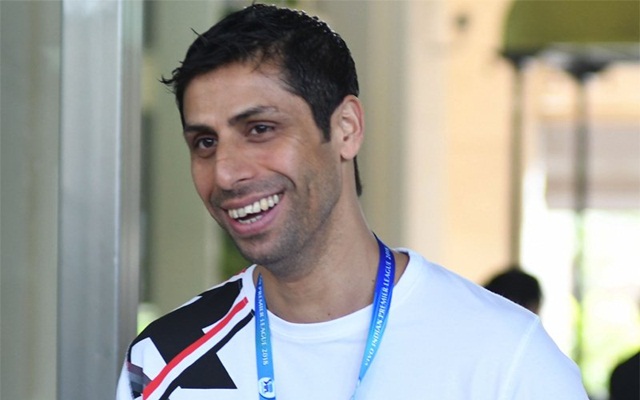 The 13th edition of the Indian Premier League (IPL) is into its second week and some quality cricket is being played. The fans are enjoying the games sitting in home and the official broadcasters have taken care of its audience back home. Some of the top former cricketers in India are commentating in various languages to make it comfortable for all people to understand.
Among regional languages, Hindi commentary is heard predominantly in the country and the likes of Irfan Pathan, Sunil Gavaskar among other legendary cricketers are part of the commentary panel. Even Ashish Nehra has entered commentary after being RCB's bowling coach for a couple of years in the IPL. People are generally seen praising the former cricketers for commentary but when they say something wrong, the same fans bash them as well.
This time around, Ashish Nehra is under the scanner for one of the statements he made when Delhi Capitals (DC) were batting against the Sunrisers Hyderabad (SRH). T Natarajan was delivering the 14th over of the innings and in a bid to nail his yorkers, he ended up delivering a full toss to Rishabh Pant which went for four.
Ashish Nehra gives his views on yorkers
This is when Nehra criticised the bowlers' mentality to go for yorkers very early and stated that the yorker length deliveries are most overrated in T20s. He was of the opinion that the yorkers should be bowled in the last 3-4 overs only and it should be delivered based on conditions and the batsman on strike.
"According to me, Yorker is the most overrated delivery in T20 cricket. It should be used based on conditions of the game and the batsman on strike," Ashish Nehra said in Hindi. As soon as he said the above statement in commentary, social media was full of trolling messages for him. While a few schooled him for his comment, some pointed out RCB's poor bowling when he was the coach of the team in the last two seasons.
Meanwhile, Natarajan continued to nail his yorkers despite missing one and was pretty successful in his attempt. Overall, in the match, he managed to deliver six yorkers, easily the most by any bowler this season.
Here's how Nehra was trolled for his comment:
Ashish Nehra said – Yorker is the most overrated Delivery in cricket 😂😂🤣😂😭😂🤣

— ᴄᴀᴘᴛᴀɪɴ. (@91Notout) September 30, 2020
Aur aapke Charsi Dost Nehra ko Yorker overrated lagti hain. https://t.co/gbusODw4Wv

— Ayush Pandey (@imAyushPandey7) September 30, 2020
Ashish Nehra was speaking nonsense in commentary box and was calling yorker as most overrated delivery in T20 cricket. Just because he couldn't bowl yorkers?

— 🙂 shalini (@__am_okay) September 29, 2020
Nehra was saying yorker is most overrated bowl😂😂😂, and Nattu's 9 Yorkers Were the One of the reasons for #SRH Victory today 👍.

— Mani Kumar 🙂 (@IMBhUviAn) September 29, 2020
Nehra actually said that Yorker is overrated in T20 cricket.

— Vaibhav🇮🇳 (@imvrb__09) September 29, 2020
Ashish Nehra in commentary box was advising against Yorker, and goes on to mocking him & Khaleel but end results spells the efforts…

— #FindingGaurav © (@confess2gaurav) September 29, 2020
nehra toh yorker ko bhav nahi de rha tha lol

— Clairvoyant (@Anachronist26) September 29, 2020
But nehra smoking joint in Star Sports studio thinks Yorker is most overrated delivery. https://t.co/ltMrYGOiME

— #FREELACAZETTE (@that_AfcAbhi) September 29, 2020
Legend ashish nehra told us yorker is overrated.

— Vikas (@CarelessVik) September 29, 2020
SRH bowlers trying to bowl Yorkers after Nehra ji said yorker is overrated 🙂

Thank you Nehra ji 🙌

— Neha✨ (@NJagnani) September 29, 2020
Overrated hai yorker according to nehra pic.twitter.com/dB87ryJ0uq

— #RR Fan✌️ (@being_kabir) September 29, 2020
And nehra said Yorker overrated 😂

— Kirti Parmar (@kirtiparmar15) September 29, 2020
Yorker is overrated : Nehra sir 🔥

— TINTIN™ (@_RAJ_RK) September 29, 2020
Natrajan just (hopefully) sealed this game for SRH with a YORKER but Nehra ji on Star Sports says Yorkers are overrated.

— Akshay (@Kohlify) September 29, 2020
Won't be talked about, but T Natarajan has shown the kind of skill a few T20 pace bowlers can only dream of.

Nailing that yorker bang on, repeatedly, almost as if mocking Nehra who called the yorker "overrated".#DCvsSRH

— Rohit Sankar (@imRohit_SN) September 29, 2020
Yorker is the most overrated delivery in T20 Cricket – Ashish Nehra.

— A $ H W I K K 🇮🇳 (@ImAsh045) September 29, 2020
"Yorker's overrated "

Me to Ludo Nehra from commentary box.. pic.twitter.com/NC5eBAyFwy

— Puneet (@OnestoPuneet) September 29, 2020
Ian bishop "yorker is a very important delivery in T20 cricket"
Clown Nehra "Yorker is the most overrated delivery."

— Riyan Parag Fc (@riyanparagfan) September 29, 2020
Nehra capitalising on missed Yorker rather than the batsman.#IPL2020

— Mr. A 🏏 (@cricdrugs) September 29, 2020
Lord Ashish Nehra ji is saying "Yorker is the most overrated delivery in T20 Cricket" _/_ #DCvsSRH

— R A T N I $ H (@LoyalSachinFan) September 29, 2020
Did Nehra for real called yorker overrated ball?

— Ram LIHC (@edgbaston_149) September 29, 2020