Sehwag had earlier said that SRH batsmen are capable of scoring around 150 runs only.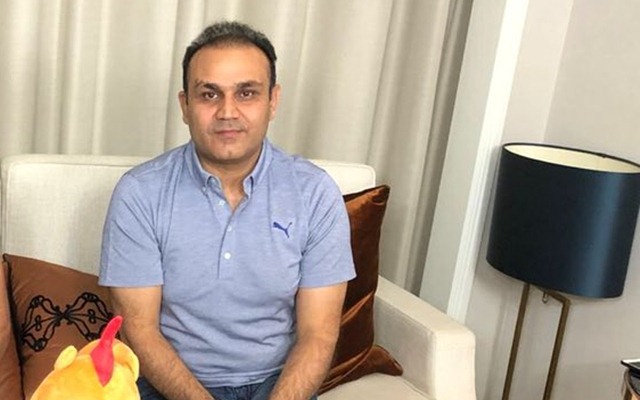 The Sunrisers Hyderabad (SRH) managed to post a total of 201 runs after opting to bat first against the Kings XI Punjab (KXIP) in the 22nd match of the Indian Premier League (IPL). David Warner and Jonny Bairstow were the chief architects of their innings as the duo added 160 runs for the opening wicket. Despite the collapse in the last five overs, SRH managed to cross the magical number of 200 by the end of 20 overs.
Interestingly, as soon as the Orange Army reached 200, former India cricketer Virender Sehwag was trending on social media. Well, this might feel weird for many but Sehwag himself is to blame for the same thanks to his statement about the Warner-led side last week.
What was Virender Sehwag's statement?
Ahead of SRH's game against Mumbai Indians (MI) last week in Sharjah, Sehwag had trolled the former side and stated that they should walk away from the game due to their ineffective batting. "Mujhe lagta hain ki Hyderabad ko walkover dena chahiye, kyuni ki humare (SRH) batting mein dum nahi hain ki hum 200-250 run banaye. Hum toh 150 wale khilari hain, aur Mumbai ne agar peheli batting karli toh Mumbai banane wale hain 200 plus," he had told Cricbuzz.
His comment roughly translates to – "Hyderabad should give a walkover. They don't have the firepower in their batting to score 200-250. SRH is capable of 150 runs, and if Mumbai bat first, they will put up a 200-plus total. This didn't go down well with the cricket fans as they remarked it as an insulting comment from Virender Sehwag against an IPL team.
SRH lost that game as well while chasing 209 runs and were restricted to 174 runs only. However, they made amends on a much bigger ground in Dubai on Thursday to cross the 200-run mark for the first time this season. Soon after the SRH innings came to an end, the fans flooded the tweets trolling Sehwag for his earlier comment on the team. It was a brilliant performance from SRH and they have surely made the 41-year-old think about his statement.
Here's how Twitter trolled him:
Forget about 200 runs in @sharjahstadium our team @SunRisers got 200 in @DubaiStadium dear @virendersehwag sir … never underestimate any team .😎😎😎

— Prudhvi Tadikonda (@PrudhviTadikon2) October 8, 2020
Ham dho sou wale team nahi hai ham dho sou pachas wale team hai @virendersehwag pic.twitter.com/fshzoi5431

— Hibernate (@Janmanchi_) October 8, 2020
@virendersehwag Paaji aaj @SunRisers jo appse hisabh se 150 wali team hai 200 marke batadi vo bhi apke poorane team ke against abh bolo 😂

— Sambhav (@Kimtee_24) October 8, 2020
@virendersehwag paji bolti band hogaya kya, Ab aap commentary se walkout karlo #SRHvKXIPpic.twitter.com/CDdn3iqVs3

— ChandraVarma 🧡 (@chandravarma_p) October 8, 2020
Dear @virendersehwag , Hope you seen today @SunRisers performance. #sunrisers score low and won many games with #SRH bowling and fielding performance, scored high & won many games. Please don't underestimate #OrangeArmy https://t.co/54N4FAtEnn

— శ్రీ రామ్ 👉 𝐉𝐚𝐧𝐚 𝐒𝐚𝐢𝐧𝐢𝐤 🇮🇳 (@JSPSriram) October 8, 2020
@virendersehwag you r my favourite cricketer
But degrading my team srh
I will never accept
Learn the basics to be legend
You r legend viru

— MADMAX💙 (@AlWaYsPaWwAn) October 8, 2020
@virendersehwag do you think of a walkover to SRH from your @lionsdenkxip team too?

— Ravikiran Alavala (@ImRavikiranA) October 8, 2020
SRH 201/6
Bhai @virendersehwag apke liye SRH ki taraf se ek tohfa 💐
Kaisi hai ….acha hai na

— Devilliers Vasu🏇 (@TarockVasu) October 8, 2020
Ham dho sou ek* wale team hai @virendersehwag https://t.co/w73uRQH5DN pic.twitter.com/vuYfE6Wl2r

— Hibernate (@Janmanchi_) October 8, 2020
Hi Sir @virendersehwag
Are you watching The Match?#SRH's score 200 plus👍
#SRHvKXIP #IPL2020

— Cinema Fanatic (@KPReddy_) October 8, 2020