Samson couldn't cross the double-digit mark in his last three outings.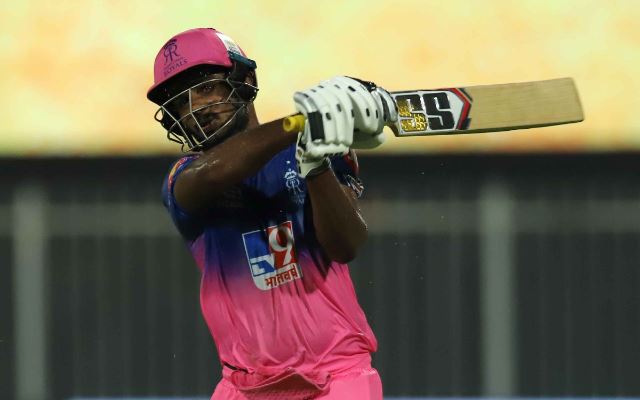 Sanju Samson has had a tough time ever since Rajasthan Royals (RR) started playing outside Sharjah in the 2020 edition of the Indian Premier League (IPL). In the first two games at the Sharjah Cricket Stadium, Samson got scores of 74 and 85, and looked at his very best. He played at strike-rates of over 200 and showed why he's deemed as one of the best young players in the country.
However, once the Royals began playing in Dubai and Abu Dhabi, the Kerala cricketer has gone into the mini-slump. His form has dipped as he failed to cross the double-digit mark even once in the last three games. After his scores of eight and four against Kolkata Knight Riders (KKR) and Royal Challengers Bangalore (RCB) respectively, he failed against the Mumbai Indians (MI) as well.
Sanju Samson flatters to deceive
At the Sheikh Zayed Stadium in Abu Dhabi, Samson notched his maiden duck of the ongoing IPL season. The right-hander came to bat at number four after Jasprit Bumrah and Trent Boult removed Steve Smith and Yashasvi Jaiswal respectively. The Royals were reduced to seven for two in only the second over. In the meantime, the required-rate also went above the 10-run mark.
Samson, being one of RR's in-form batters, was expected to steady the ship with his team, chasing a substantial 194 in their 20 overs. However, Samson ended up becoming Boult's second victim. The fast bowler churned out the short-delivery and the batter went for the pull.
However, Samson was in no position whatsoever to play the stroke and ended up mistiming it. Samson ended up slicing the ball to mid-on where MI skipper Rohit Sharma took a simple catch without much fuss. The Royals went into a deeper hole with the score at 12 for three in 2.5 overs.
Samson would somehow want to get back amongst the runs as the Royals are far from assuring a berth in the playoffs. After three outright failures, the netizens didn't seem happy with Sanju by any stretch of the imaginations. Subsequently, they lashed out at him for the poor shows with the bat in hand.
Here's how the netizens reacted: –
Sanju Samson is a good player but is always overhyped and overrated by guys like @GautamGambhir 🤷🏻‍♂️

— Dhanush Athikari (@dannynsboy) October 6, 2020
This has been Sanju samson's problem. He plays will for 2-3 matches and tonks afterwards. He's very inconsistent. He will have to step up if Rajasthan wants to do well. #haveyoursay

— Varun Mohta (@sarcastic_mohta) October 6, 2020
This is why Sanju Samson is not playing for India?

He is very inconsistent with his performances.@IamSanjuSamson @ShaneWarne #IPL2020 #MIvRR #SanjuSamson

— Silent_Monk 🇮🇳 (@shail_shakya) October 6, 2020
Sanju Samson in Sharjah:
74
85

Sanju Samson outside Sharjah:
8
4
0

His fans have the audacity to compare him to Rishabh Pant

— Hardeep Singh (@DareDevilHarry) October 6, 2020
As usual #SanjuSamson plays one or two good innings and then fails whole tournament. #RRvMI

— MohaMmed AFwan (@afwanlefthander) October 6, 2020
Sanju samson in sharjah 159 runs in 76 balls. SR 210. Avg 80
In other 2 grounds 12 runs off 15 balls.. SR 80. Avg 4.0#IPL2020 #MIvRR

— Ajay Mohan (@VinuMohanR) October 6, 2020
Sanju samson ka prblm yahi hai last 2,3 years se starting ke 1,2 matches perform krta hai.. Rest all flop🤧 he needs to be constinent#IPL2020 #MIvsRR

— ᴀᴍᴏɢʜ #MumbaiIndians💙 (@V3nomAmy) October 6, 2020
Having Talent is the one thing and utilisation of that talent with consistency is other… Sanju Samson is a prime example of that…No doubt regarding his talent but serious doubts on his consistency at the bigger stage

— Sachcha Insaan (@papajiasliwale) October 6, 2020
Similar style dismissal for Steve Smith and sanju samson in successive matches……they are not learning from their mistakes….plus week middle order…… difficult to win competition like this…#RR #RRvMI #MIvRR #IPL2020 #IPL #dream11ipl #Cricket

— Dr.Harinder Singh (@professorsahaab) October 6, 2020
Sanju Samson

in Sharjah. Outside Sharjah
74,85 8,4,0 pic.twitter.com/FceFSRitBg

— Mσяиιиɢ Sтαя🧛 (@TheDarkHorse09) October 6, 2020
Same old problems for Sanju Samson smh

— himamshu (@himamshu_7) October 6, 2020
Sanju Samson once again got Out for Short Ball , Still can't come out of Sharjah Hangover gone for 🦆
#RR – 12/3 | #IPL2020 | #RRvMI pic.twitter.com/vaTgi3TIAd

— Mᴀᴛʜᴀɴ Wʀɪᴛᴇs (@Cric_life59) October 6, 2020
Sanju samson in india team good joke😂😂😂😂😂😂😔😔😂

— Sourav Gupta (@Sggenios7) October 6, 2020
Sanju samson is not doing rishabh pant 😂.. Rishabh pant has been more consistant in this ipl than sanju panju

— 🎂ℙ𝕚𝕙𝕠𝕠🔥 (@Piink_Shadowz) October 6, 2020