Saha tried playing shots for his team but wasn't able to provide any momentum at the time of requirement.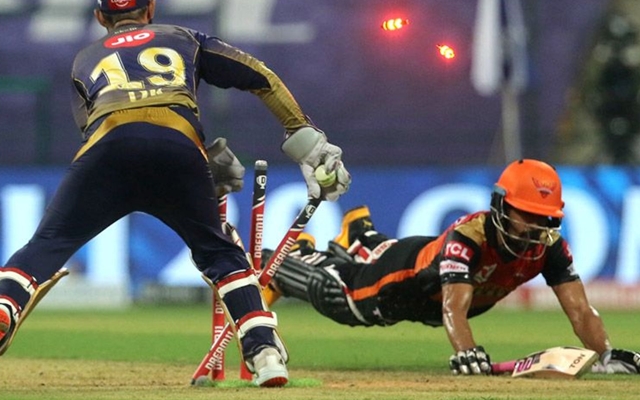 The last match between Kolkata Knight Riders and Sunrisers Hyderabad saw some below-average batting performance from the Hyderabad side. They were able to post an ordinary 142 on board as Manish Pandey produced a decent half-century.
In the same light, former Indian opener and commentator Aakash Chopra believes that a batter who is not able to match the pace of the game should be retired out. He pointed out the statements to Wriddhiman Saha, who was unable to get going for SRH.
The commentator made these observations while reviewing the same match and shared his thoughts in a video posted on his YouTube channel. Throwing light on the team selection of Hyderabad, Chopra questioned as to why star batsman Kane Williamson is not included in their Playing XI even though he is at his best fitness. Mitchell Marsh was already not there and hence, SRH decided to go with Mohammad Nabi.
"Mitchell Marsh was not there, so they had to play Nabi. But Williamson is looking fit to me. During the match, there was an interview in which he never said that he was injured. So the big question is why would you not pick Kane Williamson if he is fit and available," said Chopra on his YouTube channel.
The former KKR player also questioned SRH's decision of sending Saha at No.4 batting position after Jonny Bairstow and David Warner got dismissed. According to Chopra, they should have given the responsibility to either Priyam Garg or Abhishek Sharma, who played the previous match.
SRH sent Wriddhiman Saha at No.4 which was questionable: Aakash Chopra
Saha tried playing shots for his team but wasn't able to provide any momentum at the time of requirement. As per Chopra, the team should have retired him out. The social stigma attached to the same thing shouldn't prevail as the bowler who isn't able to get going is also not given his full quota.
"Pat Cummins dismissed Bairstow, and then Varun Chakravarthy dismissed Warner. Manish Pandey was playing well, but they sent Saha, which was a questionable call. They should have sent Priyam Garg or Abhishek Sharma before Saha because they had played the first match," said Chopra.
"Saha kept on trying, I love him to bits, but he was not able to strike it big. In such a case, why not retire out a batsman, why is there a stigma attached to it, even when a bowler is not doing well he is not given his full quota. I know that your intentions are good but you are not able to get going," he added.
Here's the video: