Rajput's arrangements for smooth travel are already been taken care of by Zimbabwe authorities.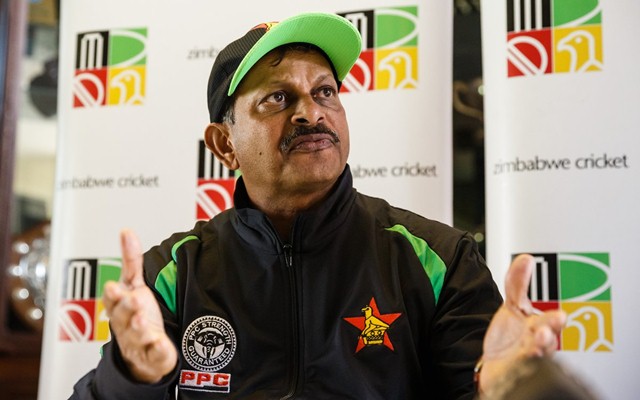 Former Indian Test batter, Lalchand Rajput, is currently Zimbabwe's head coach. It was expected he might encounter some issues while securing a visa with the Zimbabwe team that is supposed to travel Pakistan next month.
Indias has not touched the Pakistan soil post horrific Mumbai terror attacks in 2008, and Rajput might have faced some problems owing to his nationality. However, in the latest turn of events, he has been assured by a source in Pakistan Cricket Board (PCB) that he will not have any problem while getting a visa.
The PCB source also added that it would not be a problem because the visa has to be issued to the entire Zimbabwe Cricket squad, and Cricket Zimbabwe will hand over the list of players and related officials to travel Pakistan.
It will be a smooth process as the list is finalized beforehand only, and the coach can tour Pakistan without any hassle. "There shouldn't be any problems in Rajput getting a visa," the source said as quoted by The Times of India.
After the deadly Mumbai attacks, the two neighbouring countries have not even indulged in bilateral series. Due to ongoing political tensions and sour relations between India and Pakistan, cricketing activities have also seen a halt. Also, in the latest development, it was stated by concerned higher officials that both the team would not indulge in any kind of bilateral series till the time political issues are not sorted out.
Pakistan and Zimbabwe to play 3 ODIs and as many T20Is
It is a known fact that sensitive situations at the border of both countries have not been able to resolve out for long. Zimbabwe Cricket Union Chairman, Tavengwa Mukuhlani stated that Rajput is their coach and they are expecting him to travel with the side to Pakistan. Pakistan and Zimbabwe are set to lock horns with each other in three ODIs and as many T20 internationals next month.
Rajput's arrangements for smooth travel are already been taken care of by Zimbabwe authorities. The three ODIs between the two nations will be played in Multan, whereas the three T20 matches are set to take place in Rawalpindi. The guests will touch Pakistan on October 10 and will train under the COVID-19 biosecure bubble.